THE FUNNY SIDE OF DISCREET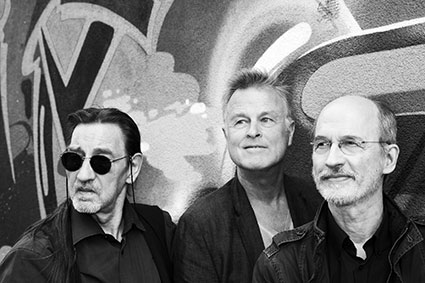 Paul Hubweber – Posaune
Erhard Hirt – Dobro & Elektronik
Hans Schneider – Kontrabass
CD: aha 1804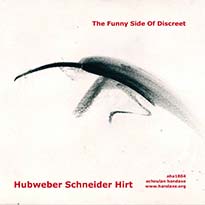 recorded 2018 07 22 at "Zettel's Traum", Leverkusen
order & download: archeulian handaxe
A remarkable album of formidable efficiency. The more I listen to it, the more I am conquered. Funny isn't it? Jean-Michel Van Schouwburg
full review:
The Funny Side of Discreet is one of the titles included in the first solo album of trombonist Paul Rutherford published by Emanem in 1975. This album is a milestone of European radical improvised music, and according to Derek Bailey, the most original solo improv album among dozens of others, including his own. ...
Hubweber, Schneider and Hirt question the functionality of their instruments, search for new sounds, their congruences and all sorts of interactivities. Erhard Hirt manipulates a dobro and an E-guitar (guitar with e-bow?), Hans Schneider completely assumes the acoustic dimension of his double bass and Paul Hubweber contorsionne, dilates or contracts the air column of his trombone to the using mutes and his voice, hissing in the mouth. Hubweber's deep talent is that he is the only trombonist who recreates Paul Rutherford's own sonorities without imitating him for a moment, creating his own personal music with nuanced play in the extremes of the instrument. A disenchanted lyricism defying the laws of harmony and gravitation. He excels so much in this field that he shares the scene for two decades with Paul Lovens and John Edwards in the PaPaJo trio, which means everything. The guitarist Erhard Hirt is a researcher head of the electronic guitar and his claws acoustic dobro carry the sound slags farthest from the normal game of the guitar. We think of John Russell. Double bass player Hans Schneider, who often worked with Georg Gräwe, Paul Lytton, Wolfgang Fuchs, Stefan Keune and Joachim Zoepf, thrilled the soul of the big violin under the frenzied friction and rattling of his volatile bow.
But the most surprising comes from the atypical interaction and the gift of about their actions / reactions in the moment. Music essentially playful, imaginative, improbable logic, immoderate taste of turbulent changes and permanent instability. There is a common passion for finding complex, contrasting, simple or haphazard sound aggregates without redundancy or weariness. We always discover something new and not played yet that entails listening and attention. A remarkable album of formidable efficiency. The more I listen to it, the more I am conquered. Funny isn't it?
the Funny Side of Discreetest un des titres inclus dans le premier album solo du tromboniste Paul Rutherford paru chez Emanem en 1975, The Gentle Harm of the Bourgeoisie, dans sa version digitale (Emanem CD 4019). Cet album est une pierre miliaire de la musique improvisée radicale européenne, et selon Derek Bailey, l'album d'improvisation solo le plus original parmi des dizaines d'autres, y compris les siens propres. Trio trombone – contrebasse – guitare, The Funny Side of Discreet est aussi un hommage au trio légendaire de Rutherford avec Derek Bailey et Barry Guy (Iskra 1903). Maintenant que Paul Rutherford s'en est allé, Paul Hubweber semble bien le tromboniste le plus en phase avec la musique de cet artiste attachant, pionnier de l'improvisation radicale, s'il en fut jamais un. Non content d'évoquer la musique du légendaire tromboniste disparu et celle d'Iskra 1903, Hubweber, Schneider et Hirt questionnent la fonctionnalité de leurs instruments, recherchent de nouvelles sonorités, leurs congruences et toutes sortes d'interactivités. Erhard Hirt manipule un dobro et une E-guitar (guitare avec e-bow ?), Hans Schneider assume complètement la dimension acoustique de sa contrebasse et Paul Hubweber contorsionne, dilate ou contracte outre mesure la colonne d'air de son trombone à l'aide de sourdines et de sa voix en chuintant dans l'embouchure. Le talent profond de Hubweber est qu'il est le seul tromboniste qui recrée les sonorités propres à Paul Rutherford sans l'imiter un seul instant, en créant sa propre musique personnelle avec un jeu tout en nuances dans les extrêmes de l'instrument. Un lyrisme désenchanté défiant les lois de l'harmonie et de la gravitation. Il excelle tellement dans ce domaine qu'il partage la scène depuis deux décennies avec Paul Lovens et John Edwards dans le trio PaPaJo, ce qui veut tout dire. Le guitariste Erhard Hirt est une tête chercheuse de la guitare électronique et ses coups de griffes au dobro acoustique charrient les scories sonores les plus éloignées du jeu normal de la guitare. On songe à John Russell. Le contrebassiste Hans Schneider, qui travailla souvent avec Georg Gräwe, Paul Lytton, Wolfgang Fuchs, Stefan Keune et Joachim Zoepf fait tressaillir l'âme du gros violon sous les frottements et râcleries insensées de son archet volatile. Mais le plus surprenant provient de l'interaction atypique et le don d'à propos de leurs actions / réactions dans l'instant. Musique essentiellement ludique, imaginative, logique improbable, goût immodéré des changements mouvementés et instabilité permanente. Il y a ici une passion commune dans la recherche d'agrégats sonores complexes, contrastés, simples ou tirés par les cheveux sans redondance ni lassitude. On découvre toujours quelque chose de neuf et de pas encore joué qui entraîne l'écoute et l'attention. Un album remarquable d'une efficacité redoutable. Plus je l'écoute et plus je suis conquis. Funny isn't it? Jean-Michel Van Schouwburg

youtube - 4:30 min.
youtube - 40 min.
rec. June 7th, 2020 @ BLACK BOX, Münster

booking & contact: thrakk@web.de
photo: Betina Bormann
---