NEW:
Walter / Parfitt / Hirt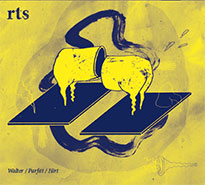 Recorded February 2017 at Revierton Studio Herne,
cover: Maren Endler

Florian Walter – alto sax, contra bassclarinet
Ross Parfitt – percussion
Erhard Hirt – guitars, electronic
BERSLTON 117 01 17 – LC 05245
Erhard Hirt- New York Connection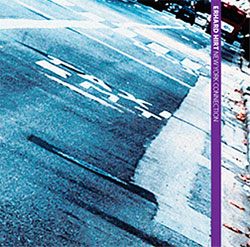 recordet live at BLACK BOX, cuba - Münster, Feb. 5th. 2016
cover photo: Maike Brautmeier
Mark Whitecage – alto sax, clarinet
Erhard Hirt – guitar, electronic
Joe Fonda – double bass, flute
Lou Grassi – drums. percussion




downloads:

Hirt. Lytle. Tammen: Telve Ways Of Saying Yes In The 18th Century France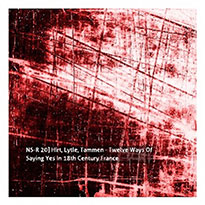 Recorded June 2015 at WKCR / Live Constructions. Special thanks to Gabe Ibagon. Mixed and mastered by Michael Lytle.

Michael Lytle - bassclarinet, contra bassclarinet, voice
Erhard Hirt - guitar, electronics
Hans Tammen - buchla

Hipshot Guitars - Vol. 2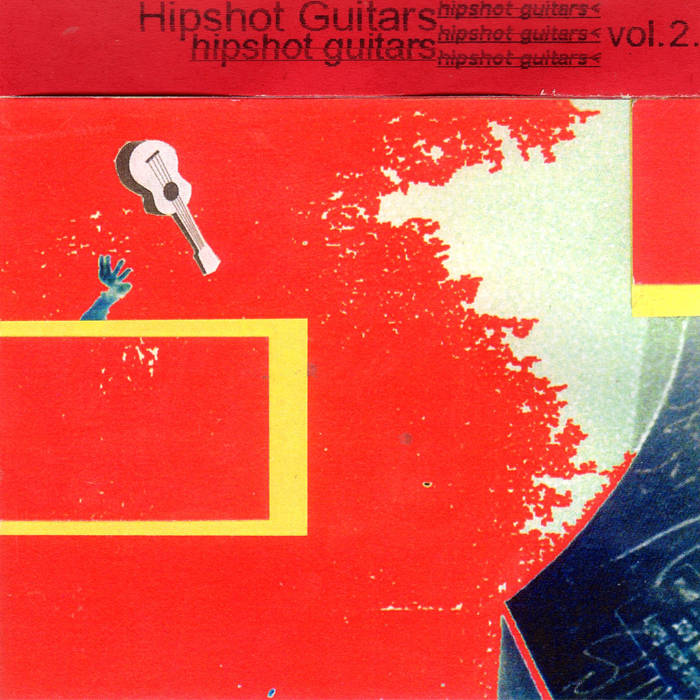 track 13 on guitar sampler produces by Mike Cooper.
also on this record: Hans Tammen, Elliott Sharp, Tim castin, Dave Brown, Paolo Angeli, Tom Cartet, Fuji, Tetuzi Akiyama, Chris Forsyth, Phil Bird, Robin Schmidt, Jean Marc Montera
Hipshot Guitars - Vol. 2 on bandcamp
se alsso: Hipshot Guitars - Vol 1

digital reissues:


1983 Gitarre Solo: "Zwischen den Pausen" (FMP / UK 2) LP download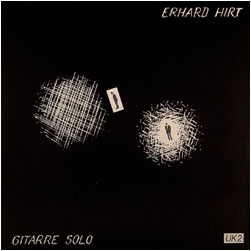 Erhard Hirt – acoustic, eelctric ´ & prepared guitar



1984 XPACT "frogman's view" (FMP / UK 5) LP download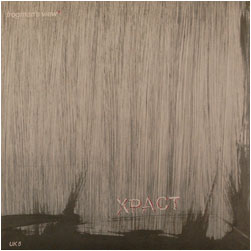 withWOLFGANG FUCHS (*1949 – † 2016) - Sporaninosax , Bassklarinette / HANS SCHNEIDER- Kontrabass / PAUL LYTTON - Percussion, Live Electronics

1985 KING ÜBÜ ORCHESTRÜ "music is music is ..." (FMP / UK 6) LP download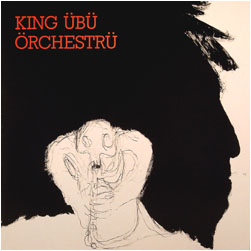 with MARC CHARIG (not apearing on this record), WOLFGANG FUCHS (*1949 – † 2016), PAUL LYTTON, RADU MALFATTI, GUIDO MAZZON, NORBERT MÖSLANG, HANS SCHNEIDER, PHIL WACHSMANN, ALFRED ZIMMERLIN

Tonträger / records:

2009 Axel Dörner & Erhard Hirt – BLACK BOX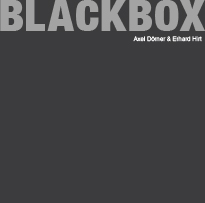 Axel Dörner - trumpet / Erhard Hirt – guitar

Black Box 1 – 23:06
Black Box 2 – 19:17
Total Time –– 42:25

Recorded live on 7/30/2007 at BLACK BOX, cuba Münster, Germany, released 2009.

acheulian handaxe records: aha 0803

Axel Dörner and Erhard Hirt met first at a network radio concept, curated by Jens Brand for WDR puclic radio Cologne in September 2006. A special music project during the Münster Sculptur-Projects 2007 gave the chance for the duo concert you can hear on this CD. Both musicians created a unique musical language far beyond the tradition of their instruments using extended playing techniques and electronics treatments.
Black Box download


buy on iTunes or Bandcamp

Kritiken
"Wow! An excellent session of radical improvisation featuring Axel Dörner, the most extreme trumpeter I know (his microsonic techniques are unparalled) and guitarist Erhard Hirt who relies a lot on electronics and/or preparations (I'm not sure). Black Box consists in two 20-minute improvisation, both dynamically rich but a little Spartan in the delivery. Engaging, confusing, perplexing, but sure-footed and the result of a clearly-defined artistic process. Great abstract art."

"Houlà! Une excellente session d'improvisation radicale entre Axel Dörner, le trompettiste le plus extrême que je connaisse (ses techniques microsoniques sont inégalées) et le guitariste Erhard Hirt, qui s'appuie beaucoup sur les électroniques et/ou les préparations (je ne suis pas sûr). Black Box consiste en deux improvisations d'une vingtaine de minutes, toutes deux riches en dynamiques mais un peu spartiates sur la livraison. Engageant, confondant, perplexant, mais résolu et très clair au niveau de l'approche artistique. Du grand art abstrait." (François Couture / Monsieur Délire)

One of the fascinating vagaries within minimalist improvisation is how often the line is blurred between electro and acoustic. Through sampling and processing, and through the modification of instruments and playing techniques, new worlds between (or within) what we have come to think of as instrumental voices often emerge. Axel Dörner is truly multi-lingual on the trumpet, and is more than fluent in musical abstraction. He is equally adept at jazz improvisation (having worked with George Lewis and Butch Morris), Euro improv (Alexander von Schlippenbach, Barry Guy) and sound art (Keith Rowe, Andrea Neumann).
He is joined on this session by electric guitarist Erhard Hirt, with whom he played in the King Ubu Orchestra. Hirt's varied career also includes work with Phil Minton, Lol Coxhill, John Butcher and many others. Over the course of 42 minutes, the pair creates varied and richly textured settings, sometimes nearing silence but more often shifting and layering structures of sound; sometimes sounding fully computer-generated, other times more like an aeolian harp and a pump organ left outside in a windstorm. What might be most unusual here, given the field of electro-acoustic improvisation, is how quickly and how often they change course. The two tracks could just as easily have been edited into eight "songs," which of course would serve no purpose other than masking how quickly they think on their feet.
(Kurt Gottschalk / Signal To Noise #58 / 2010)

AXEL DÖRNER & ERHARD HIRT – Black Box
Two extensive tracks recorded in 2007, using heavily manipulated/altered trumpet and guitar. An intelligent proposal in which the balance between real and modified timbres is practically perfect, also thanks to quieter segments - infrequently appearing amidst ceaseless ingenious spurts - that help the psyche to agree to the most alien sounds even better. The general mood is one of rather polite edginess, dictated by the almost total absence of familiarity in relation to the instrumentation's concrete appearance. Dörner privileges subdued rumble, controlled power and a smart management of hiss-and-puff traits permeated of oral humidity; Hirt is into the utter modification of the axe's tone, generating strangely resounding walls of harmonically transgendered chordal abortions, placing his statements in the right spots with incredible perspicacity. Yet he's not opposing the use of the strings as a percussive device, halfway through a small bell and an African instrument. The resulting music is pleasingly polluting and gently upsetting: subliminal at times, straight to the point elsewhere, but still difficult to appraise unless you really concentrate on it. Overall, a stimulating release. (Massimo Richi, July 2010)



2008 PYRAS/HIRT CONDITIONS






Erhard Hirt – Dobro & Live-Elektronik / Olaf Pyras – Klangstelen
recorded Nov. 21. & 22. 2005 at Klosterkirche Lippoldsberg
Klangstelen by Karl Josef Dierkes

Jede der sieben Expedition beginnt an einem eigenen Ort. Aufbruch. Beginn. Bewegung. Tief stehende Bassfrequenzen, gedämpfte Dobroklänge, einige klare Tonspalten, durch die ein helleres Licht auf das Entstehende fällt. Sieben Perspektiven. Je länger man sich in diesem Räumen aufhält, desto konkreter werden die Assoziationen... (Covertext: Joachim Weis)

Reviews NUR/NICHT/NUR 108 02 22



2008 TEFITON - SEIDL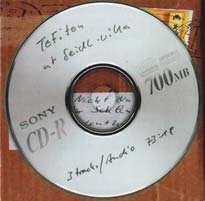 Review

with CLAUS VAN BEBBER - records / ERHARD HIRT - live electronics & guitar
recorded live Seidl at Villa by Hannes Schneider 19.9.2007
cover: Dieter Schlensog

NUR/NICHT/NUR 108 04 09

Beide CDRs enthalten Liveaufnahmen des Duos von Erhard Hirt (Gitarre und Elektronik) und Claus van Bebber (Turntables), welche die beiden Herrschaften in unterschiedlicher Verfassung zeigen. Seidl, aufgemacht als "record without a cover" bringt Erhard Hirts Handschrift auch im übertragenden Sinn groß raus: es dominieren hier nämlich die staksenden, klar klirrenden Momente fast schon solistischer Aktion auf seiner häßlichen schwarzen Gitarre mit dem abgeschnittenen Ende. van Bebber scheint hier den smarten Zeremonienmeister mit hintergründigen Knistereien und dekonstruierten klassischen Momenten zu geben. Auf der CDR Bad & Tal, die zwei Ausschnitte von Konzerten in Wiesbaden und Wuppertal enthält, ist der Sound eher wie aus einem Guß und es bleibt ununterscheidbar (für mich), welcher Akteur womöglich welche Lagen beigesteuert hat. Alles ist pulsierende Fläche und brutzelnde Textur.
(Zipo /aufabwegen)

2008 TEFITON - BAD&TAL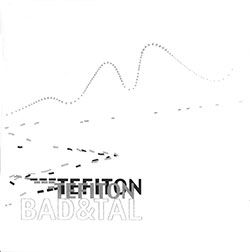 1. BAD 37:36 (Rec. dec. 8 2004 at ARTist / Kunsthaus Wiesbaden)
2. TAL 29:20 (rec. dec. 9 2004 at Galerie Epikur Wuppertal)

CLAUS VAN BEBBER - records / ERHARD HIRT - live electronics & guita

published by Wachsender Prozess, Hamburg / T. Beck: tbc@gmx.org



2005 TEFITON - LP (Anthro 01 / aufabwegen)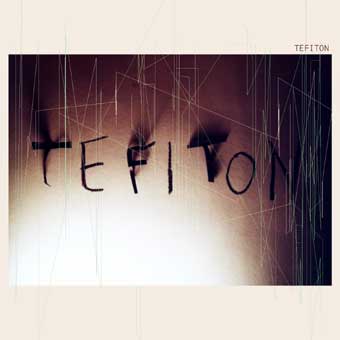 Reviews

LP with CLAUS VAN BEBBER - records / ERHARD HIRT - live electronics & guitar
recorded live at NNN Studio / Kleve by Dieter Schlensog 3.2004
guest: Ulrich Krieger - saxophone

TEFITON features over 40 minutes of thickly layered and at places elegantly slick noise textures generated from electronics, feedback and turntable. TEFITON features Ulrich Krieger (Zeitkratzer, Sonic Youth collaborator) on saxophone on one track. The overall sound shifts between almost classical improv and abrasive moments more known from the field of noise music. A fresh and challenging release! (www.soundohm.com)

Claus van Bebber plays the noises and other sounds beneath the music of his records. Or you hear the effects of very simple but meaningful elements like backward or fast'n' slow turns. And it is wonderful combined with Erhard Hirt's guitar treatments: the instrument as pure origin for sharp and droning sounds. Both are playing really together creating fresh noises from different colours and to the end increasingly with a floating character in bruit. (minimamedia.de)

2005 Ensemble Toc Edit: Büchner/Bachmann ...als jage der wahsinn... (ambitus 96881)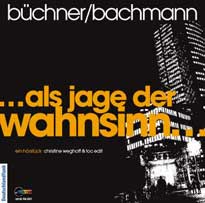 Karin Kettling - narrator
Jochen Fölster - narrator
Christine Weghoff - keyboard & sampling
Olaf Pyras - percussion
Joachim Gückel - trombone
Erhard Hirt - guitar & synthesizer

lyriks: Ingeborg Bachmann / Georg Büchner
script: Christine Weghgoff
composition: Toc Edit
recorded: live for DLF at Nov. 1. 2004 by Friedrich Thein


| | |
| --- | --- |
| soundexample: | |
| exerpt 9:46 | |
| | |
2000
Erhard Hirt 25.5.1996 (NUR/NICHT/NUR)

Reviews
recorded live at LMC-Festival London '96 (Mini - CD 21 min.)
| | | |
| --- | --- | --- |
| soundexamples: | | |
| DronePercussion | | |
| Kermesse | | |
1999
TRINIDAD Hirt-Theurer-Lehn / live recording (happy few records 8)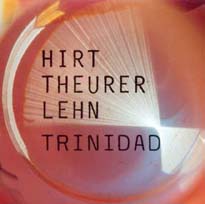 with MARTIN THEURER- piano / THOMAS LEHN - Analog Synthesizer
recorded live at "cuba" / Münster 6.6.'99
| | |
| --- | --- |
| soundexample: | |
| Marsgezeiten | |
| Sagua la Grande | |



1999 U Boot Party, Septett / live recording (happy few records 5)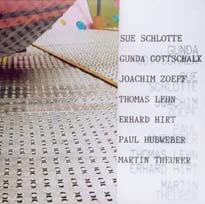 with SUE SCHLOTTE, GUNDA GOTTSCHALK, JOACHIM ZOEPF, THOMAS LEHN, PAUL HUBWEBER, MARTIN THEURER



1999 LINGUAFONIE - Workshopensemble 1997 (Goethe-Institut, Rom)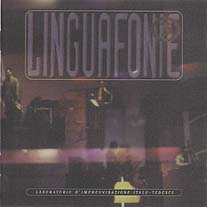 with WOLFGANG FUChs, FERNANDO GRILLO, THOMAS HEBERER, THOMAS LEHN, GIANCARLO SCHAFFINI, FRANK SCHULTE, STEFANO ZORZANELLO and OSSATURA



1998 Solo CD "acoustics" (NUR/NICHT/NUR)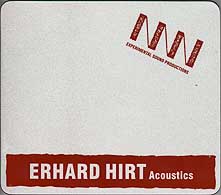 Reviews
| | | |
| --- | --- | --- |
| soundexample: | | |
| Loop | | |
| Lilli | | |
1998
Martin Theurer-Thomas Lehn - Erhard Hirt (happy few records 3)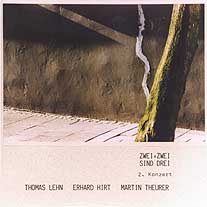 Duos and Trios with MARTIN THEURER- piano / THOMAS LEHN - Analog Synthesizer
recorded live in Witten 26.4.'98
1997
Trio CD: Minton-Butcher-Hirt : "Two Concerts (FMP/OWN 9006)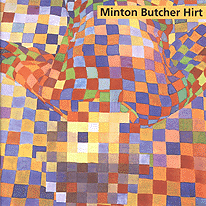 Reviews
with PHIL MINTON - VOICE and JOHN BUTCHER - SAXOPHONE
recorded at Festival Musique Action Vandeuvre lès Nancy 25.6. '95
and at Free Music Festival Antwerpen 5.8.'95
1994
Transparent Messenger CD (Hermit Foundation, Plasy CZ)
1994
Solo CD: "Gute und Schlechte Zeiten" (FMP/OWN 9003)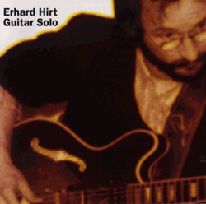 Reviews
| | | |
| --- | --- | --- |
| soundexample: | | |
| Noch ein Husten für Carl Vallentin | | |
1993
HUMANNOISE-CONGRESS '92 (hybrid CD 4)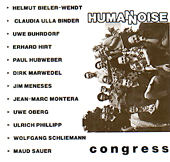 with Helmut Bieler - Wendt, Claudia Ulla Binder, Uwe Buhrdorf, Paul Hubweber, Dirk Marwedel, Jim Meneses, Jean - Marc Montera, Uwe Oberg, Ulrich Phillipp, Wolfgang Schliemann, Maud Sauer
1985
KING ÜBÜ ORCHESTRÜ "music is music is ..." (FMP / UK 6) LP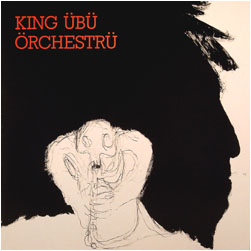 with MARC CHARIG (not apearing on this record), WOLFGANG FUCHS (*1949 – † 2016), PAUL LYTTON, RADU MALFATTI, GUIDO MAZZON, NORBERT MÖSLANG, HANS SCHNEIDER, PHIL WACHSMANN, ALFRED ZIMMERLIN
download on Bandcamp
1984
XPACT "frogman's view" (FMP / UK 5) LP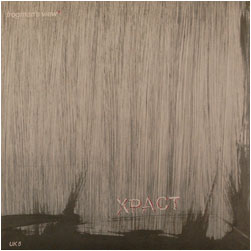 with WOLFGANG FUCHS (*1949 – † 2016) - Sporaninosax , Bassklarinette / HANS SCHNEIDER- Kontrabass / PAUL LYTTON - Percussion, Live Electronics
| | |
| --- | --- |
| soundexample: | |
| IRL | |
| FROGNOSE | |
download on Bandcamp


1983 Gitarre Solo: "Zwischen den Pausen" (FMP / UK 2) LP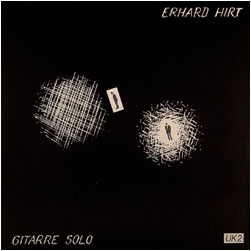 download on Bandcamp
| | | |
| --- | --- | --- |
| soundexample: | | |
| Telecaster Desaster | | |
---
Home