E. H. – New York Connection

photo: Reiner Schönfeld
Mark Whitecage– alto sax, clarinet
Erhard Hirt– guitar & electronics
Joe Fonda – double bass, flute
Lou Grassi – drums & percussion /p>
first oncert: Downtown Music Gallery, NYC. July 5th. 2015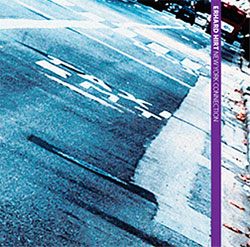 CD: recorded at BLACK BOX, Münster on Friday Feb. 5th. 2016, on KLOPOTEC
concert review: NU-Band & Hirt

CD review: THE NEW YORK CITY JAZZ RECORD | JULY 2017
New York Cnnection by guitarist Erhard Hirt is a tangential item in the Nu Band discography but should be heard by fans. Hirt has been working in the European free jazz scene since the early '80s. While Nu Band is usually a composition-based group, they will occasionally engage in free improvisation. On the night before the Geneva concert (and minus Heberer), they met Hirt in a club in Münster and played a set of vital, edgy free improvisation. Hirt's guitar and electronics bring new textures to the group and all players respond with spirited playing. They pare down into various group components with particularly inspired passages of Grassi and Fonda in duet with Hirt's scrabbling electronics, an element rarely heard with either of these players. Whitecage plays fiercely throughout. This is an inspired set with the trio goaded and prodded by Hirt to some of their most fiery playing.
read all:
ERHARD HIRT With MARK WHITECAGE / JOE FONDA / LOU GRASSI - New York Connection (Klopotec IZK 049; Germany) Featuring Erhard Hirt on guitar & electronics, Mark Whitecage on alto sax & clarinet, Joe Fonda on contrabass & flute and Lou Grassi on drums. German guitarist, Erhard Hirt, has worked with many creative players like Lol Coxhill, John Butcher, Mike Cooper and Eugene Chadbourne. Mr. Hirt has several solo guitar records on labels like FMP & Nurnichtnur, but considering that he is pushing 70, he is unfortunately under-recorded. For this live set, Mr. Hirt hooks up with the three living members of the Nu Band: Mark Whitecage, Joe Fonda and Lou Grassi. This set was recorded live at Black Box in Munster Germany in February of 2016. The Nu Band has been around for nearly two decades and has more than a half dozen superb live discs under their belt. They still exist, after the passing of Roy Campbell with Thomas Heberer as Roy's replacement.
This quartet is also a marvel of focused, collective improv. This disc consists of two long pieces and takes off right from the beginning, the quartet soaring intensely together: free yet very focused. The sax and guitar both lead the way, switching off and weaving their way around one another with the great rhythm team organically supporting and providing a strong cushion of support. Mr. Hirt uses a laptop to add selective eerie seasoning but only soloing on guitar. By midway through the first piece, the quartet erupt into a powerful storm of intense activity. When the second piece begins, Mr. Fonda switches to flute, while Mr. Hirt plays somber Frippish sustained guitar in the background, while Mr. Whitecage starts to build things up once again with his trusty clarinet in tow. The quartet get into a unexpected somewhat funky, infectious groove for a segment before morphing back to freer terrain. While Joe Fonda later bows eerie sounds at the center, the guitar and sax swirl around him to create an intoxicating, shapeshifting vibe. Once again building with strong interaction between all four members of this quartet and escalating into an exciting frenzy. This is another fine improv session for a strong one-time (?) quartet. - (Bruce Lee Gallanter, Downtown Music Gallery)
Contact:
Erhard Hirt; cuba-cultur, Achtermannstrasse 12, D-48143 Münster, Tel +49(0)251/22343, Fax +49(0)251/22397 e-mail:hirt@muenster.de
---
Home